Hello, here is my commission sheet!
---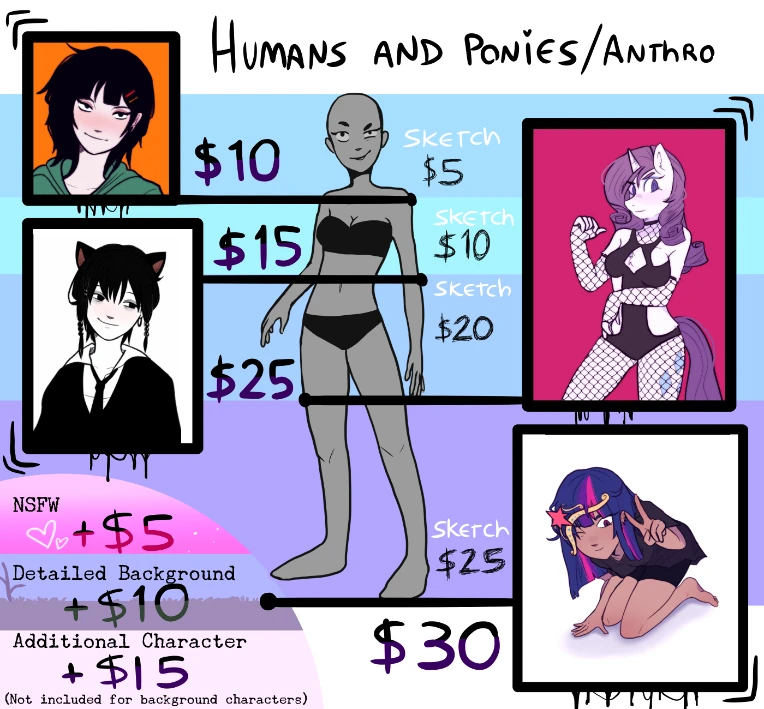 ---
If you are interested call me in private, I will leave here my other art social media if you want to call me elsewhere:
---
Commissions rules
I DO
nudity and NSFW.
Weapons and military.
Foods.
Pets (dogs, cats, birds and small animals).
Cannon X Oc.
I do not do
Furries (only anthro ponies or species of MLP:FIM).
Musical instruments.
Robots and mecha.
Vehicles.
Heavy gore.
Lolicon and Shotacon.
As stated on my commission sheet, additional characters do not apply to background characters, for example in NSFW drawings.
Simple Backgrounds (only a color ou more, with no objects or landscapes) will be free.
---
I finish the drawing only after payment, in case of unforeseen occurrence I refund.
During the process, I will send WIPs and sketchs of how the drawing is going.
Payment via PAYPAL or DeviantArt points. (Preferably by Paypal).
Pay only in USD, if you are Brazilian call me in private so I can send the prices sheet in BRL.
;)